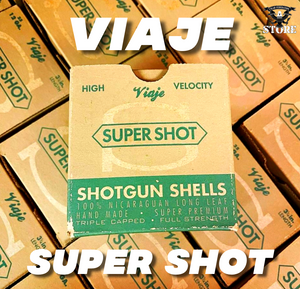 *GET 'EM HERE FIRST!*
COCKED, LOCKED, AND READY TO ROCK! Viaje Super Shot & Super Shot BUCKSHOT are back...at least while they last! 
These are LEGENDARY Viaje cigars resembling a shotgun shell. And we've got them in 10 gauge & 12 gauge!
Viaje SUPER SHOT / BUCKSHOT 2023 is a VERY LIMITED release! The last Super Shot release from owner Andre Farkas was a year ago. Since then...all of us cigar nerds have been waiting for the re-release! That day has finally come!
The name for the Super Shot comes from VIAJE owner Andre Farkas' interest in clay shooting and was developed to create a short smoke to enjoy between shooting.
SUPER SHOT features a natural Criollo 98 wrapper leaf. 
SUPER SHOT BUCKSHOT features a Maduro wrapper leaf.
The popularity of these rare cigars is amazing. These get gobbled up by cigar smokers faster than just about any other cigar!
Viaje Super Shot/Buckshot comes in iconic 25 count boxes (which look like Shotgun Shell boxes. So cool!)
FAIR WARNING: We only have a handful boxes of Viaje Super Shot...I'd recommend GETTING IT FAST! (Or you are gonna miss it!) 
NOTE: To buy a box...get five 5-packs (same blend/size)! **Shipping begins 1/31**
Get Yours NOW!