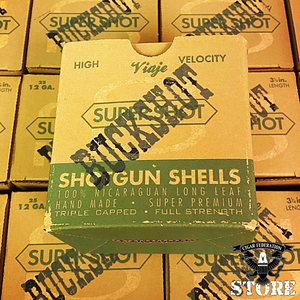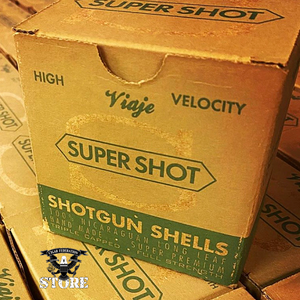 **GET IT HERE FIRST!**
VIAJE is releasing the VIAJE Super Shot again for 2020! 
AND...VIAJE is releasing BUCKSHOT! This is a Super Shot Maduro wrapped in a San Andres wrapper leaf. 
These are LEGENDARY Viaje cigars resembling a shotgun shell. And we've got them in 10 and 12 Gauge!
The name for the Super Shot comes from VIAJE owner Andre Farkas' interest in clay shooting and was developed to create a short smoke to enjoy between shooting.
The 2020 release utilizes an oily Criollo wrapper. 
The popularity of this rare cigar is amazing. These get gobbled up by cigar smokers faster than just about any other cigar!
Viaje Super Shot and Buckshot come in iconic 25 count boxes (which look like Shotgun Shell boxes. So cool!)
NOTE: THESE ARE EXTREMELY LIMITED! We've only got a few boxes of Super Shot...so time is of the essence!! 
Get Yours NOW!