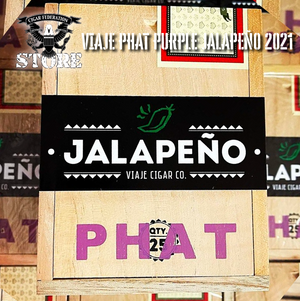 *GET IT HERE FIRST!*
VIAJE PHAT PURPLE JALAPEÑO is the newest release from Viaje Cigars! This baby is brand new and ready for those who like a little heat!
Here's the description from VIAJE on IG: "GOT PURPLE? - As our pepper season comes to a close our farmers have informed us of a special harvest this year. Purple Jalapeños are coming. Yes, purple. As a matter of fact, a single jalapeño plant can feature chilies all along the color scale, from green to red to purple. The purple variety shares a similar bite to a regular jalapeño, but there is a little more sweetness to these chilies. Unfortunately being a rarity there aren't many to go around, but if they do happen to cross your path we invite you to indulge in this limited delicacy."
VIAJE PHAT PURPLE JALAPEÑO comes in 2 Figurado sizes...a Purple Figurado (5 3/16 x 55) and the Purple EL (Figurado 4 7/8 x 50)

VIAJE PHAT PURPLE JALAPEÑO will be a spicy and complex smoke! They're blended to be the perfect balance of heat and flavor! (But I will tell you...these have a little more sweetness than previous pepper releases!)
NOTE: THESE ARE EXTREMELY LIMITED! We only have a few boxes and they will be SOLD OUT very fast!
IMPORTANT: To buy a 25 CT box, please purchase 5 Five packs. (Of the same size.)
HURRY & GET YOURS NOW!