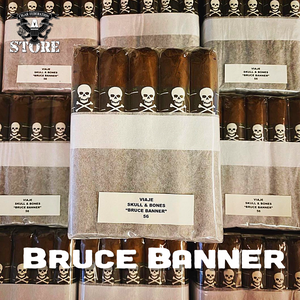 *GET THEM HERE FIRST!*
Oh yeah! 2 Brand spankin' new releases from VIAJE! BRUCE BANNER and THE HULK!
Here's how Viaje Cigars described these 2 NEW releases: "YOU WOULDN'T LIKE ME WHEN I'M ANGRY - Quarantine got you down? We are doing all we can to lift your spirits. Breaking through walls and bending steel, Bruce Banner and The Hulk are both set to make an appearance this month. When angered, Bruce transforms from a 5.25" X 56 to The Hulk, 5.25" X 60!"
Not much more is known about these 2 new blends. VIAJE is keeping everything secret. (I for one like that because it adds to the intrigue!)
NOTE: EXTREMELY LIMITED QUANTITIES! ONLY A FEW BUNDLES AVAILABLE! 
Hurry & Get Yours NOW!