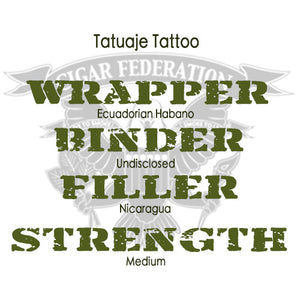 I'm just gonna come right out and say it...There ain't a better cigar for this price in the world! Period.
Now, we here at CigFed are huge Tatuaje fans! Tatuaje cigars are some of the absolute best. The complexity...the flavors...the balance...the construction. They are just plain awesome!
The Tatuaje Tattoo by Pete Johnson is a full-bodied, medium-strength cigar. Flavors are milk chocolate, cream, medium-roasted coffee, cedar, raw sugar, and pepper.
Oh yeah...and we've got the BRAND NEW Favoritos Petite Robusto size!
Now I know what you're thinking....how can a cigar for this ROCK BOTTOM PRICE be good? But don't forget: This is a Tatuaje! It's all the great flavor and quality you look for in a boutique cigar and at a phenomenal price! (We still can't figure out how Pete Johnson does it.)
It's time to load up your humidor with Tatuaje Tattoo! (Mine is!)
Get Yours NOW!