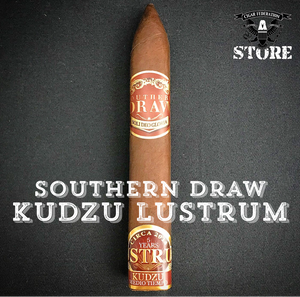 Southern Draw Kudzo LUSTRUM is a boutique cigar smoker's dream!
Not only is it a decadent and rich cigar smoking experience (we know from experience)...but it's limited to just 2500 bundles of 10 cigars. AND.....This blend is intended to be released only every 5 years!
So this is the rarest of the rare!
Southern Draw Kudzo features--get this!--a medio tiempo Habano wrapper! In all honesty, we've never even heard of being able to do this with a medio tiempo leaf! This is next level stuff!
Flavors for the Southern Draw LUSTRUM are chocolate, cocoa, oak wood, cream, and pepper. The construction is perfect as would be expected for a cigar crafted in the AJ Fernandez factory. 
If you like full-bodied and flavorful Nicaraguan cigars, then you are gonna adore the Southern Draw Kudzu LUSTRUM!
NOTE: As mentioned earlier...these are SUPER LIMITED! We only have a handful of these precious cigars!
Very Highly Recommended!
Get Yours NOW!