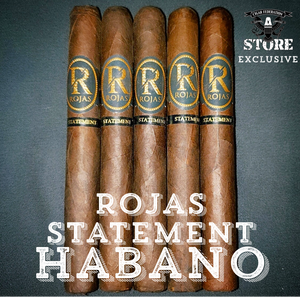 **CIGAR FEDERATION EXCLUSIVE!**
Noel Rojas is like one of the behind-the-scenes "Master Yoda" types in the boutique cigar world! 
He's worked with some of the hottest boutiques in the world--Ezra Zion, Stolen Throne, Nomad, Ohana...just to name a few! He's helped crank out some of the most flavorful and sought after unicorn cigars of the last few years!  
To put it another way...Think of him like a master music producer working with some of the top bands in the world. 
And now he's back with his own personal brand! And we've got an EXCLUSIVE blend just for you!
The Rojas Statement HABANO is a phenomenal cigar in every way possible! The tobaccos are exquisite. The construction is nails. And the flavors are outta control! But...you'd expect nothing less from a tobacco master like Noel Rojas!
Rojas Statement HABANO is a full-bodied, med/full strength beauty. The complexity and the balance of the blend are absolutely expert level stuff!
I've been pretty much chain-smoking these and I can tell you all about the flavors! Expect notes of caramel, dark chocolate, oak wood, coffee beans, black pepper, licorice, heavy cream, toasted almonds, cinnamon, brown sugar, tanned leather, dolce de leche, espresso, and nutmeg.
It's utterly and completely delicious!
Rojas Statement HABANO is one of the best cigars you are going to smoke this year...and that ain't no hype! When you smoke it...you wholeheartedly agree! It's magnificent!
Get Yours NOW!