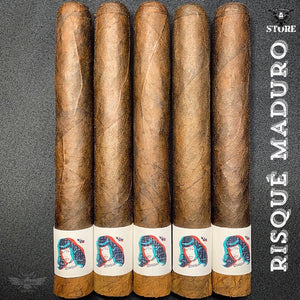 Who doesn't love a little "RISQUÉ" behavior?
The #1 Cigar we get emailed about is RISQUÉ...which was released years ago for Cigar Federation Tobacos! It's became one of the rarest and hardest to find small-batch boutique cigars in the world!
It's taken us all these years to create a follow-up that would be crazy, edgy, and delicious enough to carry the "Risqué" name...introducing the RISQUÉ MADURO L.E.! 
Let me be blunt...This is some next level stuff! RISQUÉ MADURO L.E. is a no holds barred blend of rare tobaccos that we've had aging in the secret tobacco vault. (You gotta have a freakin' top secret clearance, a background check, and a very awkward TSA screening just to get into the place.)
RISQUÉ MADURO L.E. is a 6x52 broom-foot toro wrapped in an 8-year-aged vintage San Andres maduro leaf. Fillers are visos and ligeros from Esteli, Jalapa, and Condega. Full bodied and med/full strength. 
Flavors of dark chocolate, brown sugar, toffee, espresso bean, and leather start from the first puff. The body from the Condega tobacco is very apparent. Notes of caramel and cinnamon emerge as things gain steam. The retrohale adds a warming pepper burn.
Further into the cigar, blasts of sugar cane, cedar, clove, heavy cream, and nutmeg appear. Hints of vanilla bean and cashews.
Last third, burnt marshmallow, sweet tea, cocoa, bourbon whiskey, and red oak are added. The flavor complexity and richness are legendary! 
Can I just cut to the chase? RISQUÉ MADURO L.E. is the best CFT release so far! No BS! I'm not ashamed to admit it! I've been to Niagara Falls. I've seen Mount Kilimanjaro. Hell, I've seen the pyramids in Egypt. None of those things can compare to the ecstasy that is RISQUÉ MADURO!
Call that hyperbole if you want. But I've got a massive "cigar-crush" on RISQUÉ MADURO L.E. and I'm not ashamed to admit it!
NOTE: THIS IS EXTREMELY LIMITED PRODUCTION! THIS IS A MICRO-BATCH OF ONLY 280 CIGARS!
Hurry! These are gonna be SOLD OUT really fast!
Get Yours NOW!
Total Production: 280