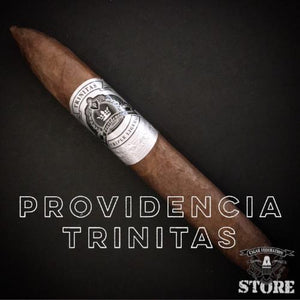 Providencia Cigars is the best kept secret in the cigar industry right now. The thing is...they won't be secret for very long! Their cigars are too damn good!
Providencia Cigars Trinitas is a brand spankin' new release! The 2 years of blending that went into creating this cigar are apparent when you smoke it. All I can say is "Wow!"
Providencia Cigars Trinitas is full-bodied, full strength and has a San Andres LIGERO wrapper! (Yeah, ligero!)
It's an elegant box-pressed figurado, that's oh so gorgeous. Seriously, we're officially awarding style points for the shape!
The flavors of the Providencia Cigars Trinitas are rich and luxurious! Copious amounts of cocoa and spice. Notes of almond, leather, and stout beer. Additional hints of espresso and earth.
Providencia Cigars Trinitas is a special cigar! It's top-shelf in every sense of the word. Get Providencia Cigars Trinitas while you can! It's limited edition, and limited cigars that taste this good don't last long!
Get yours NOW!