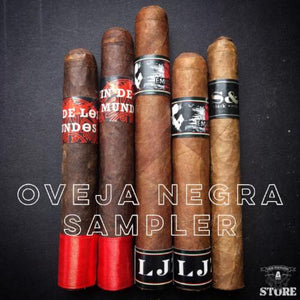 Oveja Negra is the factory where some of the best boutique cigars in the world are made! Owned by James Brown (who also owns BLK WKS & Black Label Trading Co.), Oveja Negra is putting out some of the most cutting edge cigars the market today! We know....we've made cigars at Oveja Negra. Their tobaccos are phenomenal!
The Oveja Negra Sampler features cigars made in the Oveja Negra factory using their rare and vintage tobaccos!
Here's What You Get...
1- Fin De Los Mundos (Robusto)
1- Fin De Los Mundos (Corona Gorda)
1- LJZ (Toro)
1- LJZ (Robusto)
1- S&R (Corona Gorda)
The MSRP on these 5 cigars is over $50.00! And it's worth every penny!
BUT you can get the Oveja Negra Sampler for ONLY $34.95!
GET YOURS NOW!