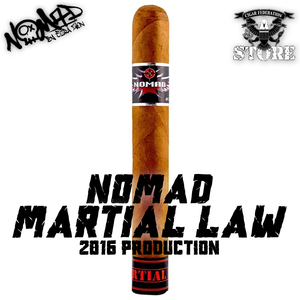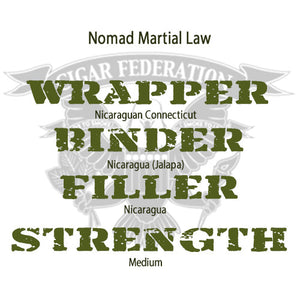 **94-RATED! AMAZING SMOKE!**
Before you even start, you gotta know...This one's STRICTLY for the serious cigar smoker!
Martial Law is is full-throttle, full-blown cigar smoking euphoria!
Seriously, if you are into truly "boutique" cigars—with the complexity and richness of genuine small-batch stuff...then you're gonna love NOMAD MARTIAL LAW!
And it's a 94-RATED beauty! (You can watch the review HERE. Tim Rollins, Tiny Tim's Cigar World)
NOMAD MARTIAL LAW is made at Oveja Negra factory in Esteli. These are the same fine folks who make BLK WKS, Black Label Trading Co. and Emilio. (So this is the best of the best...plus one!)
I can tell you from personal experience that NOMAD MARTIAL LAW is a top-shelf smoke in every way! I've find myself skipping over the "big name" boutiques in my humidor and grabbing a NOMAD MARTIAL LAW to enjoy for the evening! (And happens a couple times a week!)

NOMAD MARTIAL LAW is an amazing four-region Nicaraguan blend of tobacco goodness! Tobaccos are from Esteli, Jalapa, Condega, and Ometepe!
Expect extremely delicious flavors of espresso beans, brown sugar, heavy cream, white oak wood, dark beer, bourbon whiskey, clove, anise, cashew, and vanilla.
Like I said....it's freakin' delicious!
You're gonna love it! Guaran-damn-teed!
Get Yours NOW!