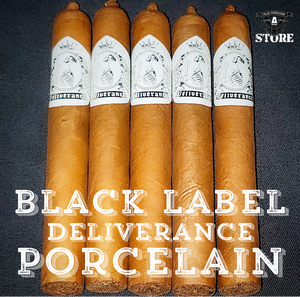 Black Label Deliverance Porcelain is one of the coolest and tastiest BLTC releases of all time!
I mean just look at it....it's BEAUTIFUL!
Originally released in 2018, Black Label Deliverance Porcelain is a sister blend to the extremely popular Deliverance Nocturne. They feature the same amazing filler tobaccos from Pennsylvania and Nica...the only difference is that Porcelain has a gorgeous shade-grown Connecticut wrapper. 
Full-bodied. Medium-strength. The flavors are creamy, peppery, spicy, smooth, and sweet. It's an expertly balanced cigar!
Made at the famous Oveja Negra factory in Esteli, Nicaragua, Black Label Deliverance Porcelain is impeccably constructed with a perfect burn. 
You are gonna dig it!
Get Yours NOW!
🚨P.S. Get SPECIAL SALES PRICING on Porcelain for a Limited Time!