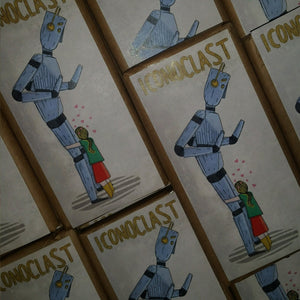 NOBODY has Iconoclast available! Oh, except your ol' buddies at Cigar Federation! 
We found some way back in the warehouse while we were doing some rearranging. It was like finding a Mickey Mantle rookie card in the attic!
Iconoclast is a wrapped with an Indonesian tobacco. It's a lancero with mysterious origins (Google it. Nothing is out there.) Not much was said about Iconoclast when it was originally released last year. Those who where able to get there hands on this very rare cigar hid them away in the most secret parts of their humidors!
We've smoke Iconoclast...and it's awesome! Medium strength and complex. 
Iconocast comes in packs of 6. We've only got a few of these extremely rare cigars. Now is your chance to get your hands on them!
You'd probably have better odds spotting Bigfoot than ever seeing these available again. Get yours and get 'em NOW!