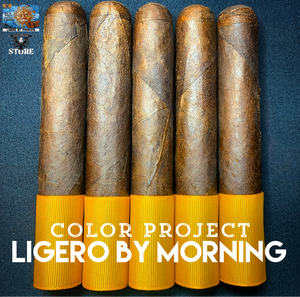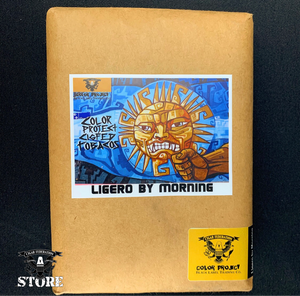 Up and at 'em, FedHead! 
The early bird gets the worm...or in this case...the LIGERO!
LIGERO BY MORNING is a raucous, full-throttle blend with all the rich, delicious flavors you've come to expect in a COLOR PROJECT release! PLUS, it's got enough octane to sit you down and let you know who's boss! 
Will it make a grown man cry? Probably.
LIGERO BY MORNING is a collaboration project with our friend James Brown (Black Label Trading Company, BLK WKS) at their Oveja Negra factory in Esteli, Nicaragua.
And this blend is just straight-up EPIC on steroids! The depth of flavors and the richness of the tobaccos are freakin' incredible!
LIGERO BY MORNING is a full-bodied, full-strength 5.25 x 52 robusto extra. The wrapper is a chocolatey, oily, gorgeous San Andres maduro leaf. (Just look at that picture...WOW!) Fillers are Nicaraguan tobaccos from Esteli and Condega. PLUS....it features the coveted Medio Tiempo ligero...which is pretty much the tastiest tobacco God ever made!
FLAVORS: Dark chocolate, coffee beans, leather, brown sugar, red pepper flakes, buttercream, all-spice, licorice, cedar wood, and caramel. 
This cigar is full-blown legendary! If you're a fan of rich maduro cigars...you're gonna absolutely love LIGERO BY MORNING! 
Hey, you know that COLOR PROJECTS are limited releases! And that they sell out REALLY fast! 
We only have 198 LIGERO BY MORNING fivers! We highly recommend getting yours...and getting them as fast as you can!
Get Yours NOW!