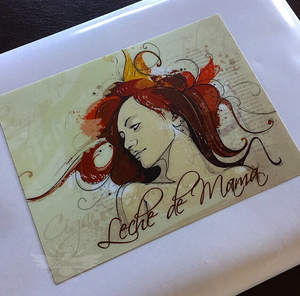 You never forget your first love!
After years of being SOLD OUT...the ORIGINAL Leche de Mama blend is finally back!  (YES, this is the natural Criollo wrapper that hasn't been available for a long, long time!)
Leche de Mama is Spanish for "Mother's Milk". The idea for this project started way-backa-when while we were blending cigars and listening the Red Hot Chili Peppers album--Mother's Milk. 
We set out to find the smoothest, creamiest tobaccos on earth and began like mad scientists to blend them. After months of work, we were finally holding in our hand the best "creamy" cigar we've ever had-- Leche de Mama!
Hey, and I don't mean to make this sound like some wimpy mild cigar! This ain't bunch of rainbows and unicorns...this baby has some serious junk in the trunk!
Leche de Mama is a full bodied/medium strength closed foot short toro with freakin' monumental flavors!
Wrapped in a 5-year-aged Criollo 98 wrapper draped over the smoothest and most sultry mix of tobaccos we've ever produced!
Leche de Mama opens with rich leathery waves and a huge creamy butter blast. Notes of macadamia nuts followed by a cinnamon spice.
The finish lingers long on the tongue leaving a whipped cream and vanilla flavor. 
As the second third begins, additional notes of Spanish cedar and cashews appear. Gorgeous hints of Brandy subtly come to the fore. The flavors are a bit like French Vanilla Ice Cream. The balance is impeccable!
The last third finishes magnificently! Gentle toffee notes are added to the blend. A warming white pepper tingles the tongue. You won't want to put it down. It's creamy and bursting with flavor all the way down to the nub!
Believe me when I tell you...Leche de Mama is gonna be one of the best cigars you've ever had. No joke! It's effing legendary! 
You know and I know that these are gonna be SOLD OUT really damn fast! Don't miss out on Leche de Mama! Trust me! Hurry up and Get yours NOW!
Total Production: 350