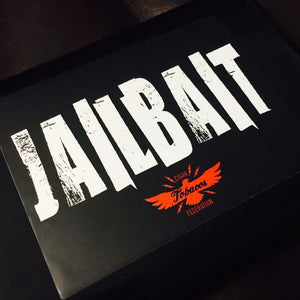 JAILBAIT 2023 L.E. is the kind of cigar that you compare other cigars to! 
I'm gonna tell ya right now that you're gonna dig this smoke...a lot!
Lemme drop some metaphors on ya....Jailbait is like your first kiss....Graduating from college....And childhood memories of Christmas morning. ALL ROLLED INTO ONE!
All joking aside. There are good cigars and there are great cigars. This, my brother and/or sister, is a GREAT cigar!
I gotta tell ya...We scored some seriously phenomenal tobaccos for JAILBAIT 2023 L.E. The result speaks for itself! Absolutely unbelievable!
JAILBAIT 2023 L.E. is a full bodied, med/full strength 6x52 toro wrapped in an absolutely luscious Sumatra Rosado leaf. Fillers are all Nicaraguan and are all 5-9 years aged!
The balance and depth of flavor of Jailbait 2023 L.E. is outta control. The richness of this tobacco will have you smoking these like it's your job!
First puff wallops you with a blast of dark chocolate, maple wood, and red pepper. Honeycomb sweetness immediately follows. Retrohale burns with cayenne pepper heat. It'll water your eyes, believe me!
Throughout the second third flavors of caramel, walnut, and espresso beans emerge. The finish is clean and lingers for several minutes after each puff. 
Last third sends this blend into orbit! Big notes of milk chocolate and cream. Hints of almond, clove, and cedar. Uber complex and uber delish!
If cigars could get Michelin stars, Jailbait 2023 L.E. would be a friggin' constellation!
JAILBAIT 2023 L.E. will be gone quick! Don't wait and see that big SOLD OUT button when you get ready to grab 'em! Hurry and Get Yours NOW!
Total Production: 290