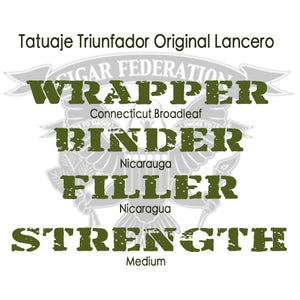 *VERY HIGHLY RECOMMENDED!*
We are freaking out right now! We got some TATUAJE EL TRIUNFADOR ORIGINAL BROADLEAF Robustos!
Everyone knows by now that we are RABID Tatuaje fans!
There just isn't anything that can compare to it!
In fact, Tatuaje El Triunfador was one of our "Go To" cigars after-hours...when we're smoking just for the enjoyment of it! We'd literally ration these out and only smoke a couple a month because they're so limited....but oh, so delicious! So this one's personal for us!
(BUT—we haven't been able to get these for years. They just don't release them very often.)
TATUAJE EL TRIUNFADOR ORIGINAL BROADLEAF is a full-bodied, medium-strength 5x50. It's wrapped in a beautiful USA grown Connecticut Broadleaf maduro leaf. 
The flavors are just amazing— Notes of dark chocolate, espresso, cream wood, earth, black pepper, coffee, cocoa and sweet notes of brown sugar. 
NOTE: Batches of these are released very rarely—and we were only able to get a few boxes from the small production. 
BTW…these are absolutely BOX-WORTHY!
Get Yours NOW!