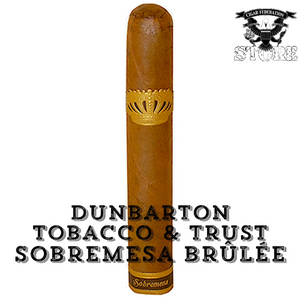 **EXTREMELY LIMITED!**
You just gotta know. We are HUGE fans of Steve Saka and his amazing cigars. The guy is a freaking genius when it comes to tobacco and cigar blending. 
Here's a tip...when you smoke any of the the Sobremesa Brûlée blends, you're gonna think it's sweetened...BUT IT'S NOT! Steve was able to extra age and process the wrapper leaf that it brought out the natural sweetness in the leaf and diminished all other aromatic or bitter notes. (a good bitter, like coffee)
Saka hasn't disclosed any blend specifics for Dunbarton Sobremesa Brûlée but previous releases featured an Ecuadorian Connecticut shade G2BW wrapper with Mexican Matacapan negro de temporal binder. Fillers are all Nicaraguan including Condega C-SG, Pueblo Nuevo Criollo, La Joya Esteli C-98, and ASP Esteli hybrid ligero. So...it *could* be something close to that. 
Flavors are incredible! Big notes of sugar cane, heavy cream, maple syrup, and almonds immediately flood the palate! Throughout the cigar milk chocolate, cedar, clove, white pepper, buttercream, vanilla bean and coffee appear. 
I really can't do it justice with mere words. It's just a cigar that needs to be experienced!
NOTE: These are 13 count boxes and we only have a few in each size! THERE WERE ONLY 1000 BOXES MADE!
My recommendation is GET A BOX while you can! These are amazing!
Get Yours NOW!