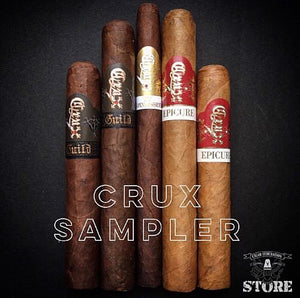 We should've named this "The Most Epic Crux Sampler of All Time!"
Crux is one of the hottest brands in the boutique cigar world. They've earned their right to be in this elite group by putting out amazing cigar after amazing cigar! 
This Crux Sampler will give you a great chance to try some amazing cigars from the Crux lineup. 
Here's what you get...
1 - Crux Guild Robusto
1 - Crux Guild Toro
1 - Crux du Connoisseur No. 2 Lancero
1 - Crux Epicure Toro
1 - Crux Epicure Robusto
MSRP on these amazing Crux cigars is over $50.00! You can get them for a limited time for ONLY 35.95!! Get Yours NOW!