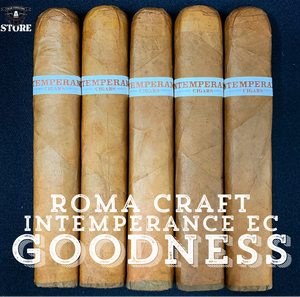 **LIMITED PRODUCTION SIZES--A.W.S. IV and HUMILITY!**
These are hella limited!  But we got your back, FedHeads!!
We know people who know people...so we got you some of these amazing RoMa Craft Cigars!
RoMa Craft Tobac's first release, Intemperance EC is one of the most enjoyable cigar experiences your palette can have. I know from experience! (Billy Madison movie quote!)
Intemperance is made at the RoMa Craft's very own factory, Fabrica de Tobacco Nica Sueno in Esteli, Nicaragua. The tobaccos these guys are sourcing are nothing short of legendary! The flavors, the burn....ahhhh...it's friggin' magical!
Roma Craft Intemperance EC XVIII is made with an Ecuador Connecticut wrapper and blasts you with nutty, sweet flavors.
Don't let those good looks fool ya...just 'cuz she's a Connecticut doesn't mean she won't pack a wallop! Expect creamy flavors along with notes of sweet, spice, cedar, and coffee.
NOTE: These are VERY LIMITED! WE ONLY HAVE A FEW BOXES AVAILABLE!
Roma Craft Intemperance EC XVIII is one of the best boutiques on the market today. You need a humidor full of these, and you need to Get Yours NOW!