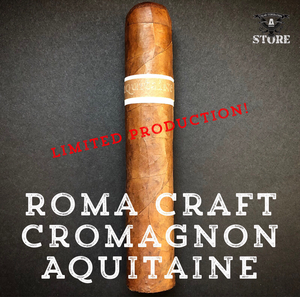 **LIMITED PRODUCTION SIZES--BLOCKHEAD, BREUIL, EPOCH, PESTERA MUIERILOR & VENUS!**
RoMa Craft CroMagnon Aquitaine is the stuff legends are made of! This is seriously one of the best RoMa Craft blends you can get! We smoke the livin' daylights outta the RoMa Craft CroMagnon Aquitaine!
These Limited Production sizes are very hard to get! Well....except here at CigFed Store! :)
Aquitaine contains the same fillers and exotic Cameroon binders as the RoMa Craft CroMagnon, but features a beautiful oily Ecuador Habano Ligero Wrapper giving it a remarkable feel.
If you were looking for a boutique smoke with depth and complexity, you found it with RoMa Craft CroMagnon Aquitaine! 
Get Yours NOW!