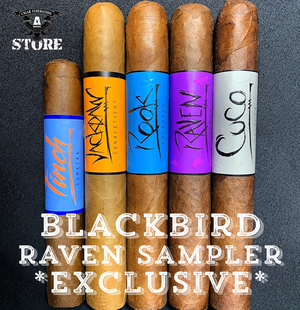 *CigFed Exclusive!*
Of all the new boutique cigar companies start last year...Blackbird Cigar Co. was one of the most popular! 
Every one of their blends is freaking tasty! Made in true boutique form...with ultra-quality tobaccos in small batches. 
What makes this sampler special is that CigFed is the ONLY place to get the Blackbird Raven Cubra 6x54! (And once these are gone...you won't ever be able to get them again!)
Yup, it's time to load up your humidor with all kind of Blackbird goodness!
HERE'S WHAT YOU GET:
*Cigar Federation Exclusive Cigar* Blackbird Raven Cubra (6 x 54)
Blackbird Rook Sumatra  (6 x 54)
Blackbird Jackdaw Connecticut (6 x 54)
Blackbird Cuco Criollo (6 x 54)
Blackbird Finch Sumatra (5 x 50)
MSRP on these amazing cigars is $49.99. You can get them now for ONLY $39.95!
NOTE

: 

W

e only have a few of these Blackbird Samplers! They'll be gone VERY FAST! 
Hurry & Get Yours NOW!