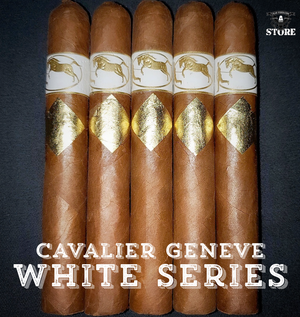 You might not be familiar with Cavalier Geneve, but you're gonna to be! Their cigars and their story as a company is really something very special!
Cavalier Geneve was started in Switzerland by Sebastian Decoppet. They've since moved to Dallas, Texas (so many great cigar companies in Texas!) They are a true to life example of the American Dream!
Now to the cigar...
Cavalier Geneve White Series is the flagship blend for Cavalier Geneve. It's a smooth, sophisticated cigar. The kind you'd smoke in limo or while wearing a tuxedo. 
Cavalier Geneve White Series features an oily Habano wrapper with filler tobaccos from Connecticut, Dominican Republic, Nicaragua, and Paraguay. 
Flavors are silky! Notes of warm cream, cinnamon, Spanish cedar, cocoa powder, dolce de leche, and toasted nuts.
Cavalier Geneve White Series is a phenomenal cigar! This is one for the true aficionado! 
Get Yours NOW!