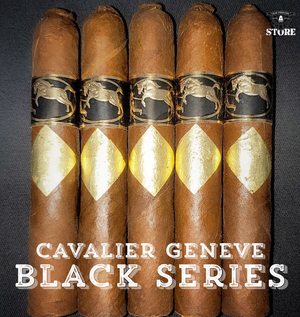 Cavalier Geneve Black Series is an Exclusive cigar that's only made for the USA!
You might not be familiar with Cavalier Geneve, but you're about to be! Their cigars and their story as a company is really phenomenal!
Cavalier Geneve was started in Switzerland by Sebastian Decoppet. They've since moved to Dallas, Texas (so many great cigar companies in Texas!) They are a true to life example of the American Dream!
Now to the cigar...
Like all Cavalier Geneve products, there is a piece of edible gold leaf on the cigar...giving is a regal and sophisticated appeal!
Cavalier Geneve Black Series features a chocolatey San Andres maduro wrapper. Fillers are from Brazil, Honduras, and Nicaragua. It also features a Cuban pigtail cap!
Full-bodied. Medium-strength. Flavors of dark chocolate, walnuts, dried fruit, heavy cream, and red oak. So good!
I gotta tell ya...I just started smoking Cavalier Geneve a few months ago and they are now one of my go-to cigars everyday. The flavor complexity, the balance, and the construction are all just so damn good!
Don't wait to get your Cavalier Geneve Black Series...because I might smoke them all!
Get Yours NOW!