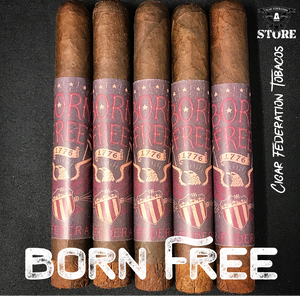 *NEW CIGAR RELEASE!*
I'm just gonna be blunt with you right outta the gate…
Cigar Federation Tobacos is putting out some of the best boutique blends in the world right now!

Now, how do I know that?
FUN FACT: if you knew which *famous* boutique cigar makers (there are several) were ordering EVERY Cigar Federation Tobacos release…your jaw would hit the floor!
Hey, they know their tobaccos…and they only smoke the best of the best! (And no, I'm not gonna tell you who they are because it's confidential. 🤫)
BORN FREE LIMITED EDITION 2023 is the newest CFT cigar release…and it's bringing enough firepower and attitude to be back-to-back World War Champions!
BUT UNDERSTAND...BORN FREE 2023 L.E. is Extremely Limited! This was a tiny micro-batch!! So we're talking less than 255 cigars here!
BORN FREE LIMITED EDITION 2023 is a full-bodied, med/full-strength 6x48 toro. The wrapper is a vintage Colorado leaf. Binder and filler tobaccos will remain a closely guarded secret. All tobaccos are aged between 5-10 years!
First light is an avalanche of flavors! Milk chocolate, aged leather and espresso bean rush across the palate. Sugary sweet tea immediately follows. The finish adds notes of red oak and vanilla. The retrohale is warming with a cinnamon burn.
After an inch or so, big blasts of caramel and cashews emerge. Heavy cream appears on the finish along with hints of all-spice and nutmeg.
Halfway is amazing! Custard, white chocolate, and almond begin to dominate. Hints of rum barrel, cane sugar, and jalapeño join the mix.
The last third goes ballistic! Huge notes of dark chocolate, and red pepper emerge. The brown sugar sweetness grows. The finish lingers long on the palate adding whipped cream and black coffee. The burn is perfect and cigar stays cool all the way to the nub of the nub! 
When you get done smoking this cigar you'll literally stand up, put your hand over your heart and say…."I pledge allegiance to BORN FREE LIMITED EDITION 2023, and to the Republic for which it stands…"
PLEASE REMEMBER: THIS IS A VERY SMALL MICRO-BATCH PRODUCTION! Because of the rarity of the vintage tobaccos used (there isn't any more of it!)—we could only make 255 cigars!
Get these as fast as you can…and CHERISH every single one of them!
GET YOURS NOW! 
Total BORN FREE LIMITED EDITION 2022 Production: 255