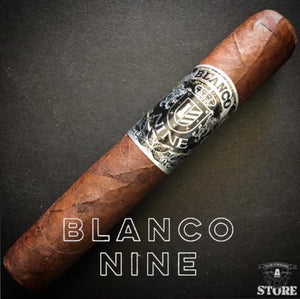 Blanco Nine may very well be the best cigar in the Blanco lineup. I'll have to smoke them all again to check. hehe.
Blanco Nine is so epic that we'll just let the product description come from David Blanco himself: 
"The NINE is made with the finest Oscuro Corojo wrapper grown in Nicaragua. The wrapper, which has been aged for a minimum of 3 years, has been masterfully blended with an exquisite binder from the world famous Jalapa Valley in Nicaragua.
To achieve the complex and sophisticated taste and aroma of this full-flavored and full-bodied cigar, three different ligero leaves are used from various Nicaraguan tobaccos as filler.
This cigar has a dark, oily and marbleized colored wrapper. There are notes of wood and cocoa on the unlit foot with big flavors right off the light. Smooth draw with clouds of rich smoke. Earth, coffee and spices dominate the palate, quickly followed by a full and long-lasting body.
This is a big smoke with a big profile. After 8 attempts at blending this cigar the ninth was perfection! The NINE is a 10!"
Bottom line: Get Yours NOW!