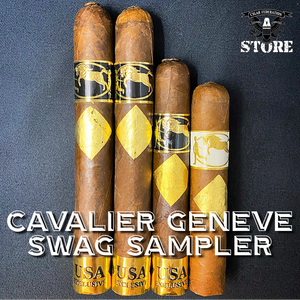 Unless you've been living under a rock for the last couple years, you know all about Cavalier Geneve Cigars. 
Everyone becomes a Cavalier Geneve fan pretty much the same way...
It usually starts out by hearing about those cigars with real gold leaf on the wrapper that you smoke along with the tobacco. And then once you see a picture of them, it's so striking that you just gotta hunt some down to smoke. 
And once you smoke one...you're a fan for the rest of your life!
We are bringing you some absolutely delicious Cavalier Geneve cigars in this sampler. PLUS...a chance to win a super legit Cavalier Geneve ASHTRAY!
Here's how the raffle works... Each 4 Pack Sampler gets you 1 entry into the raffle. So the more samplers you get, the more chance you have to win!
2 - Black Series USA Exclusive Toro 6 x54
1 - Black Series USA Exclusive Robusto 5 x 50 
1 - White Series Elegantes 4 1/2 x 52
PLUS...1 ENTRY into the Cavalier Geneve Ashtray Raffle
 MSRP for these 4 amazing cigars is over $45.00. You can get them now for
ONLY $29.95
!
GET YOURS NOW!