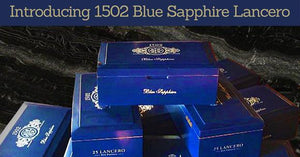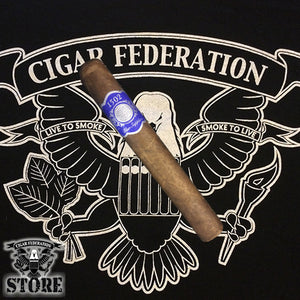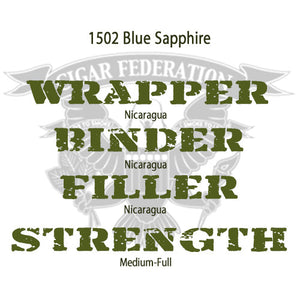 1502 is one of the most popular brands in the boutique industry! 
If you've had the pleasure of smoking a 1502 XO recently then you know how amazing they are! 
The string of hits that 1502 has is amazing! Emerald, Ruby, Black Gold...all high-rated, critically-acclaimed achievements! (Owner Enrique Sanchez is a close, personal friend that we think is an absolute cigar genius!)
1502 Blue Sapphire was one of the most sought after cigars in the world when it was released! The problem is that you can't find it anywhere anymore. It's extremely hard to come by!
So you can imagine how excited we are to be able to bring a few boxes to you! WE COULD ONLY GET A HANDFUL OF LANCERO AND TORO.
The Blue Sapphire is a rich and bold cigar blend. Deep flavors of coffee, cocoa, cream, cedar, and sugar. All made proudly of Nicaraguan tobaccos from the regions of Esteli, Jalapa, and Condega!
NOTE: We could only get a few boxes of 1502 Blue Sapphire!...so you need to get yours fast before the other guy does!
Get Yours NOW!