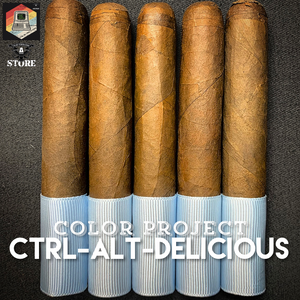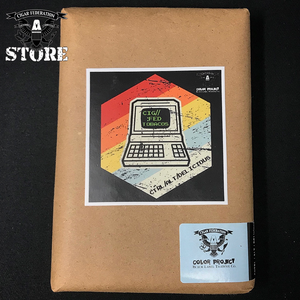 The Unicorn of Unicorns is back!
CTRL-ALT-DELICIOUS hasn't been available for 4 long years!
Most people haven't even seen one in person....let alone smoked one. Fans of the COLOR PROJECT blends have sought long and hard to get a chance to enjoy a CTRL-ALT-DELICIOUS.
Well, it's dream-come-true time, my friend!
CTRL-ALT-DELICIOUS is a collaboration project with our friend James Brown (Black Label Trading Company, BLK WKS) at their Oveja Negra factory in Esteli, Nicaragua.
This cigar is a total FLAVOR BOMB! The complexity and depth of flavors are phenomenal! (The whole CF warehouse team had a borderline collective meltdown when we first smoked it! It's just amazing!)
CTRL-ALT-DELICIOUS is a full-bodied, med/full strength 5x48 classic robusto. The wrapper is an earthy, vintage San Andres maduro leaf. Binder and filler tobaccos are vintage Nicaraguan.
FLAVORS: Cocoa, espresso, earth, leather, heavy cream, cane sugar, black pepper, vanilla bean, clove, licorice, hickory wood, walnut, and dark chocolate. 
This cigar is named CTRL-ALT-DELICIOUS for a reason! It's because this is ONE OF THE MOST DELICIOUS CIGARS YOU'RE EVER GONNA SMOKE!
Hey, you know that COLOR PROJECTS are limited releases! And that they sell out REALLY fast! 
We only have 198 CTRL-ALT-DELICIOUS fivers! We highly recommend getting yours...and getting them as fast as you can!
Get Yours NOW!