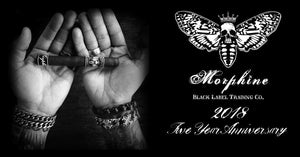 *NEW LIMITED EDITION RELEASE!*
Black Label MORPHINE is BACK for 2022!!! 

And it's a big one! WHY? Because it's back after a one year hiatus!
So BLTC pulled out all the stops! I'm tellin' ya...it's phenomenal! 
As BLTC's strongest blend, Morphine is meant to satisfy more experienced smokers! And it delivers...big time!
James Brown, creator of Black Label Trading Company and partner at Fabrica Oveja Negra described MORPHINE 2022 thusly: "I really missed not having Morphine around last year. That was the first time since 2014 that we've not released it. I believe this year might be one of the best vintages so far. I'm most excited about bringing back one of my favorite vitolas, the 5×54 Robusto box press torpedo. The Robusto has the dual San Andrés & Ecuadorian Maduro wrappers, while the Corona Gorda and Lancero are full San Andrés wrapper."
BLTC MORPHINE 2022 features 3 different vitolas: Corona Gorda (5 1/2 x 48), Robusto Torpedo Box Press (5 x 54), Lancero (7 1/4 x 42).
BLTC MORPHINE 2022 is made at the legendary Oveja Negra factory in Esteli, Nicaragua! 
Ok, Flavors…Full-bodied, full-strength with notes of espresso, dark cocoa, black pepper, earth, dark leather, cedar, molasses, cane sugar, clove, and cream.
NOTE: MORPHINE is an annual LIMITED EDITION and is only released every year (or two)! So this 2022 release is as limited as limited gets! Seriously, you need to get these fast because once they're gone...you ain't gonna see them again! 
You had better GET YOURS NOW because these will be gone fast!
GET YOURS NOW!