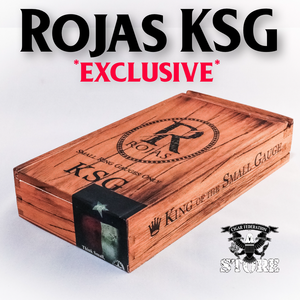 **CIGAR FEDERATION EXCLUSIVE!**
The ROJAS KSG is a brand spankin' new release from Noel Rojas! And we've got the EXCLUSIVE RELEASE of ROJAS KSG just for you!
KSG stands for "KING OF THE SMALL GAUGE". All of the releases in the Rojas line will be small ring gauge cigars.
And believe me when I tell ya...this cigar is gonna rock your friggin' world!
Here's a little background on Noel...Noel Rojas is like one of the behind-the-scenes "Master Yoda" types in the boutique cigar world! 
He's worked with some of the hottest boutiques in the world--Ezra Zion, Stolen Throne, Nomad, Ohana...just to name a few! He's helped crank out some of the most flavorful and sought after unicorn cigars of the last few years!  
To put it another way...Think of him like a master music producer working with some of the top bands in the world. 
Ok, now to the ROJAS KSG...
The ROJAS KSG is an absolutely PHENOMENAL cigar! Wrapper is a 5-year-aged Ecuadorian Habano Maduro. Binders and fillers are vintage tobaccos are from  the Somoto region in Nicaragua. 
ROJAS KSG is a full-bodied, med-full strength 7 ½ x 38 classic lancero. 
Expect notes of creamy dark chocolate, espresso beans,  cedar wood, black pepper, licorice, toasted nuts, cinnamon, light brown sugar, leather, cocoa, and caramel.
It's unbelievably delicious!
NOTE: This is a VERY LIMITED EDITION! ONLY 357 BOXES WERE MADE! (AND THESE ARE ONLY 14 COUNT BOXES!)
Take my advice...Get a bundle...or 5 of them!
Get Yours NOW!