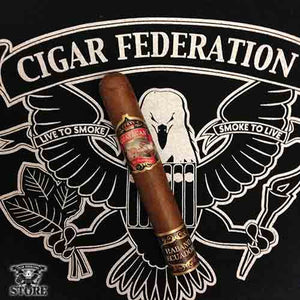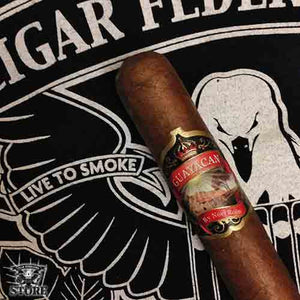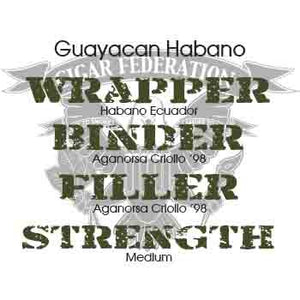 *CIGAR FEDERATION EXCLUSIVE!*
We've just discovered the ULTIMATE WAREHOUSE FIND!
*Before there were Street Tacos. Before there was KSG. Before there were Bluebonnets or Statements—there was GUAYACAN!
For those who may not know, GUAYACAN is the very first brand made by Noel Rojas after he arrived in American from Cuba. So these boxes are an important piece of boutique cigar history!
We came across a handful of 2012 ORIGINAL PRODUCTION Guayacan Habano Ecuador boxes!
Noel Rojas is like one of the behind-the-scenes "Master Yoda" types in the boutique cigar world! 
He's works with some of the hottest boutiques in the world--Ezra Zion, Stolen Throne, and Nomad...just to name a few! He's helped crank out some of the most flavorful and sought after unicorn cigars of the last few years!  
To put it another way...Think of him like a master music producer working with some of the top bands in the world. 
This guy knows his way around delicious tobaccos and is one of the greatest cigar blenders God ever made!
The 10+ Years of additional aging have done wonders to the flavor dynamics! The blend is ultra smooth, medium-strength with flavors of caramel, cream, raw sugar, white chocolate, aged tobacco, white oak, tanned leather, baking spices, macadamia nuts, and cinnamon.
The tobacco pedigree is amazing! Ecuadorian Habano wrapper (Approx. 13-14 years aged) with binder and fillers from AGANORSA—Criollo 98 and Corojo 99. 
This stuff is LEGENDARY!
NOTE: WE ONLY HAVE A HANDFUL OF BOXES…AND ONCE THEY'RE GONE, THEY'RE GONE FOR GOOD! 
👉Any serious Rojas Fan needs a box of these as the Crown Jewel of your humidor! (I've got one in mine!)
Get Yours NOW!