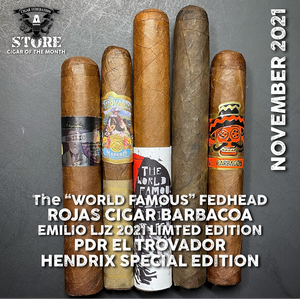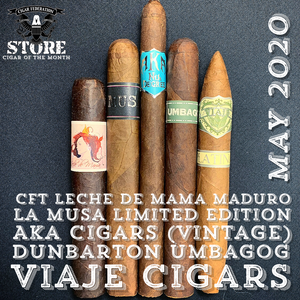 **THE #1 CIGAR OF THE MONTH CLUB IN THE USA!**

Since 2013, the Cigar Federation Cigar of the Month Club has been delivering the BEST and most EXCLUSIVE boutique cigars to our very enthusiastic members!
This really is the absolute BEST Cigar of the Month Club that you can join! And that's not just us tooting our own horn! Take a look at the reviews...300+ and they are all 5-Stars!
Every month we select cigars that are some of the most coveted and sought after cigars in the world! Brand new releases, Ultra-rare finds, and Exclusive Blends are our specialty!
Here's how it works...
Each month you will receive either 5, 10, or 20 boutique cigars...depending on how many you order. They will be the cigars in the picture every month (with the very rare exception that we run out...and in that case we'll contact you to arrange a suitable substitute.)
You will be sent your order every month on approx. the same date you placed your original order. So if you order on the 12th of the month...you order will ship around the 12th of the next month. Easy Peezy!
AND THE BEST PART IS THAT IT'S ALWAYS FREE SHIPPING!
Just for fun...go Google search "cigar of the month clubs" and try to find one at a better price point with same quality of cigars. Trust me, it can't be done!
Hey, you can even check out our blog which outlines the cigars included each month since we started! CLICK HERE TO READ: Cigar of the Month Club.

So what are you waiting for? It's time to join the #1 Cigar of the Month Club NOW! It's the best deal on boutique cigars ANYWHERE!
JOIN NOW!