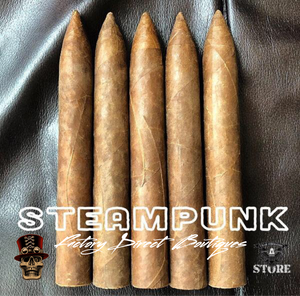 STEAMPUNK is IMO the best Factory Direct Boutique we've ever offered!
After years of being SOLD OUT...we finally got some more STEAMPUNK!
STEAMPUNK is one of the most popular--if not the MOST popular--factory direct exclusive boutiques in CF history!
STEAMPUNK has 100% 5-Star Reviews from the FedHeads who've smoked it!
We originally got STEAMPUNK from a boutique cigar factory that only had these because one of the brands they were working with couldn't pay for these cigars. (Too much gambling in Las Vegas at IPCPR I heard.)
If you knew which company--and how much they charge for their cigars--you'd be buying these by the truckload! 
STEAMPUNK is a 6x52 Nicaraguan puro made with tobacco from Esteli and Jalapa. It's creamy, spicy, sweet and is one of the most full bodied yet silky cigars we've ever had. Notes of dark chocolate, cedar, and coffee. Strength comes in at a nice solid medium plus. 
If I were a cigar reviewer, I'd give this a 93 rating. Shoot, if it had a band it would be a $12 cigar all day long!
NOTE: Get STEAMPUNK while you can because we only got a few BUNDLES of these beauties! So, yeah, they're gonna go REALLY fast!!
Get Yours NOW!