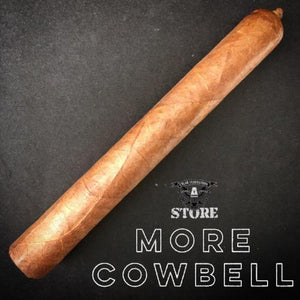 *NEW 2023 LIMITED EDITION BLEND!*
"I got a fever and the only prescription is More Cowbell!"
It's been over 2 years since More Cowbell was last released! (And subsequently sold out a day or so later!)
MORE COWBELL 2023 Ltd. is one of the creamiest and delicious blends you will ever light up! The tobaccos are extremely aged and extremely smooth!
But this is an EXTREMELY LIMITED small-batch production! So if you want to get in on this goodness...you're gonna need to hurry!
MORE COWBELL 2023 Ltd. is a full-bodied, medium-strength 6.5x48 toro. The wrapper is a silky Corojo 99 rosado leaf. Binder and fillers are from Esteli, Condega, and Jalapa.

Oh, and ALL of the tobaccos used are over 10-years-old! 
Holy Cow! (Pun intended!)
Flavors are rich and satisfying. Bold notes of milk chocolate, vanilla bean, creamed coffee, black pepper, aged leather, raw cane sugar, graham crackers, cinnamon stick, butter, macadamia nuts, and caramel!
MORE COWBELL 2023 Ltd. is a 92+ Rated cigar any way you look at it. One of these days a Factory Direct Boutique will grace the Top Cigars of the Year Lists. MORE COWBELL 2023 Ltd. might just be the first one! Ya, it's that good!
We know you're gonna absolutely love it! In fact, once you smoke it, you'll be wanting More Cowbell for sure!
GET YOURS NOW!
Total Production: 410