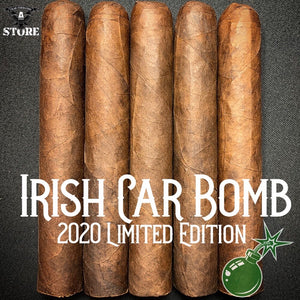 It's time to party like it's St. Patrick's Day!
The legendary IRISH CAR BOMB is back! Originally released in 2016...this is the 7th Anniversary of ICB!
We've taken our annual IRISH CAR BOMB release and taken it to the next level of awesome! Better quality, more flavorful tobaccos. The complexity and richness of IRISH CAR BOMB 7 YEAR ANNIVERSARY is incredible! 
I know, I know, the drink of choice for St. Paddy's is beer. And lots of it!
BUT...Irish Car Bomb is a drink that we've always had at every cigar event/festival for years (if they have a bar). It's become a standing tradition. That dark beer and sweet Irish cream...oh man! It's like the perfect cigar profile. 
Anyway.... we wanted to do a cigar with those same amazing taste characteristics! 
Let me tell you...IRISH CAR BOMB 7 YEAR ANNIVERSARY is insanely good! Wrapper is a gorgeous Habano from Nicaragua. Binder and filler tobaccos are all Nicaraguan from Condega, Jalapa, and Estelí. So, yeah, this is a legit Nica puro!
IRISH CAR BOMB 7 YEAR ANNIVERSARY is a 6x48 toro. It's medium/full strength...and it's extremely creamy and chocolatey. It's gotta little bit of beer hops, coffee, and cedar. Additional notes of vanilla, black pepper, espresso beans, and hot cocoa.
NOTE: THIS IS A MICRO-BATCH PRODUCTION OF ONLY 360 CIGARS! 
It's gonna blow your mind (pun intended. hehe)
Get Yours NOW! 
Total IRISH CAR BOMB 7 YEAR ANNIVERSARY Production: 360