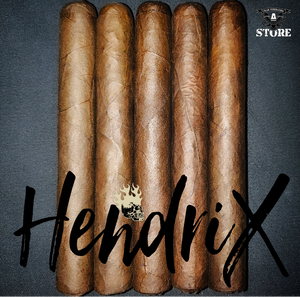 Crank up the music and wake the neighbors!
We're EXTREMELY excited to finally release a brand new Factory Direct Boutique exclusive...HendriX INTENSO!
Let me just tell you right outta the gate…this cigar is not for the novice smoker or the faint of heart!
HendriX INTENSO is an updated (better) HendriX blend. It utilizes even higher quality tobaccos! (And some higher primings!)
This baby is INTENSE! It's LOADED with rich Nicaraguan ligero tobaccos and draped in a beautiful and oily San Andres maduro leaf.
Backstory: A few years ago, I was smoking with a buddy in the cigar industry. His brand is one of the most popular boutique brands in the world...with the rating and awards to prove it!
He gives me this cigar and tells me to try it. As I'm lighting it up he says "This cigar was gonna be the top price point cigar in our portfolio. MSRP was gonna be $15. But we decided to use a little bit different wrapper, so now we have a few bundles of these to smoke ourselves."
After smoking it for a few minutes (and LOVING it!) I told him, "I've got to have these for the FedHeads! This blend is so smooth and so rich. People will go as crazy for this blend as I am!"
After a little arm twisting...he finally agreed!  
(By the way...I told him he was insane for changing the wrapper too.)
HendriX INTENSO takes this original HendriX blend and just takes it up about 10 notches in quality and flavor complexity! (If you've read this far in the product description, I don't mind telling you that this is BY FAR the best FDB release to date. Bar none!)
HendriX INTENSO is a full-bodied, full-strength 6x52 classic toro. It features a 7-year-aged San Andres maduro wrapper with Nicaraguan binders and fillers.
The character of the cigar is very rich and intense with a deep maduro flavors. 
First third flavors include dark chocolate, espresso bean, brown sugar, and black pepper. The finish has a long finish of heavy cream and cinnamon. 
Second third flavors are so complex! Milk chocolate, cafe latte, caramel, and dark rum. 
Last third the flavors get INTENSE. Big notes of Tootsie Roll and black pepper. Hints of vanilla bean, toasted almond, dark beer, whiskey barrel, buttercream, and clove.
HendriX INTENSO is an absolutely phenomenal cigar! Hey, where else are you gonna get a $15 cigar for under $6 bucks?!?!
NOTE: We only have a small amount of HendriX INTENSO cigars! (And yes, I have a bundle in my personal humidor!) It's Extremely Limited! You're gonna have to hurry if you don't want to miss it!
Get Yours NOW! 
Total HendriX INTENSO Production: 305