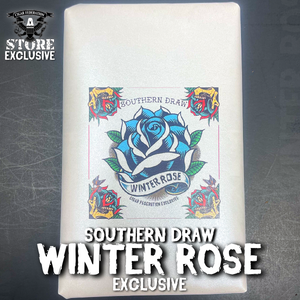 **CIGAR FEDERATION EXCLUSIVE!**
Ladies and Gentlemen, it is with profound pleasure that I introduce to you the NEW Southern Draw WINTER ROSE!
🚨And it's a Cigar Federation Exclusive! Not available anywhere else!
If you were a fan of the previous Southern Draw CigFed EXCLUSIVES— ROSES 'N GUNS, MIDNIGHT ROSE, METAMORPHOSIS...then you are gonna absolutely LOVE the newest exclusive release…WINTER ROSE!
Southern Draw owners, Robert and Sharon Holt, blended up one of the most delicious and incredible cigars they've ever done! We couldn't even believe it when we smoked it for the first time! (Their CigFed Exclusives just keep getting better and better!)
WINTER ROSE is an intoxicating blend of deep rich flavors! The flavors are intensely complex and the constitution is absolute perfection!
Southern Draw has created some of the most popular cigars in the world! Their Jacob's Ladder, Rose of Sharon, Cedrus, Kudzu Lustrum, and IGNITE releases have been some of the most sought after boutique cigars ever!
But...I think they've outdone themselves with the brand new SOUTHERN DRAW WINTER ROSE!
SOUTHERN DRAW MIDNIGHT ROSE is a 6x52, full-bodied, med/full-strength classic Toro. The wrapper is a beautiful and oily San Andres maduro leaf.
Flavors are absolutely PHENOMENAL! The cigar opens with notes of dark chocolate, dark brown sugar, black peppercorn, licorice, dark leather, heavy cream, cedar wood, and espresso. The retrohale is strong adding a warm cinnamon burn.
Caramel notes begin to appear after an inch or so, complimented by blasts of dry Cabernet wine, nutmeg, and vanilla bean. White pepper and chocolate frosting linger on the finish. The balance of flavors is amazing!
Last third, expect flavors of milk chocolate, spiced rum, custard, all-spice, and coffee beans, buttercream, and cloves. 
NOTE: TOTAL PRODUCTION FOR WINTER ROSE is only 910 cigars! So you're gonna need to hurry like your life depended on it!
I'm telling ya...Do whatever you have to do to get WINTER ROSE! Beg, borrow, or steal whatever you need, but don't miss out on this amazing cigar!
Get Yours NOW!
Total SOUTHERN DRAW WINTER ROSE Production: 910