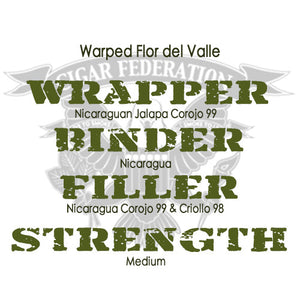 Warped Flor Del Valle SELECCION DE VALLE is a brand new release from Warped Cigars! We are honored to be the first to release this cigar to the masses!
(You might know this cigar by it's first production name--Ghost Orchid--which was changed due to trademark issues.) 
When we smoked this cigar at the IPCPR trade show...it was all I could do to keep my composure! It was so good and so delicious that I almost went full "cigar-nerd fan-boy" right in front of Warped owner Kyle Gellis and the whole Warped crew. I just couldn't believe what I was smoking! It was (and is) a masterpiece!
Warped Flor Del Valle SELECCION DE VALLE features a 109-style cap...it's the technical term for the Cuban-esque tapered head toro. 
Warped Flor Del Valle SELECCION DE VALLE is made with 100% Aganorsa tobaccos! The wrapper is a silky Nicaraguan Jalapa Corojo 99 leaf with Criollo 98 and Corojo 99 fillers.
Medium body and strength with phenomenal flavors and balance! Notes of creamed coffee, milk chocolate, cedar wood, light brown sugar, raw leather, butter, caramel, subtle white pepper, cinnamon, and toasted nuts. Absolutely unbelievable!
PLEASE NOTE: We only have a small amount of boxes available! These will be Sold Out very fast! (And yes, I already have some squirreled away in my personal humidor!)
As someone who's smoked this, I can tell you...Cigars just don't get any better than this! 
Get Yours NOW!