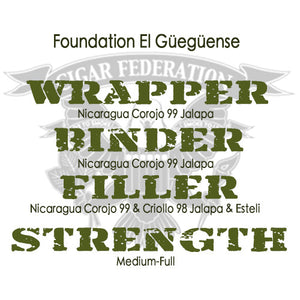 The inaugural Foundation blend!
Foundation El Gueguense was the first blend released from Foundation Cigar Co. El Güeguense translates to "The Wiseman" and is the brainchild of legendary cigar blender, Nick Melillo.
It is an homage to an indigenous Nicaraguan character that was developed to mock the arriving Spaniards, over 500 years ago. The cigar's packaging and bands reflect Melillo's love for Nicaragua.
Foundation El Güegüense is wrapped in a Corojo 99 leaf with fillers of Corojo and Criollo long-fillers from 2011 and 2012. It also features the illustrious medio tiempo primings...which is the secret sauce in some of the best cigars made in the last decade!
Full-bodied with med/full strength. This cigar was rated 92 by Cigar Aficionado and was in the Top 25 for 2016!
It's an amazing smoke!
Get Yours NOW!