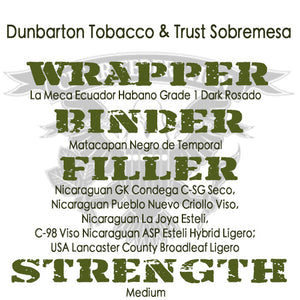 Can we all just acknowledge something real quick? Steve Saka is one of the greatest cigar blenders in history. Period.
When Steve came back onto the cigar scene with his new company, Dunbarton Tobacco & Trust, he quickly let everyone know he meant serious business with his first release....Sombremesa!
Sobremesa is one of the greatest cigars you could ever hope to smoke. It has everything the true boutique cigar connoisseur could ask for: Complex rich flavors, perfect balance, impeccable burn and construction....and a hella cool band!
Produced at the Joya de Nicaragua factory in Esteli, Nicaragua, where Steve believes their facilities and personnel are perfect for this cigar. Steve was nothing but precise on his description of the tobaccos used, so I will let the graphics speak for that. This is a don't miss cigar! #BuyNow!