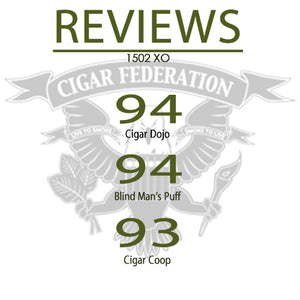 **VERY RARE & HARD TO FIND!**

We've got more 1502 XO IN STOCK!
How do we do these things? Well, we know people who know people. We love bringing you rare and hard to find cigars that aren't available anywhere else!
To say we're excited about it is the understatement of the century! It feels like Christmas came VERY early this year...and if you've ever smoked a 1502 XO you know what I'm talkin' 'bout!
1502 XO debuted at the 2015 IPCPR. Since then a new 1502 XO is released every year! This cigar is so special that each box AND individual cigar is numbered!
Nobody knows the blend details for 1502 XO. It's Top Secret. But what we do know is that it features binder and filler tobaccos that have been aged a minimum of 18 YEARS!!!
—>THESE ARE SOME OF THE MOST COVETED CIGARS IN THE WORLD!
I CAN'T SAY IT ENOUGH...THESE ARE EXTREMELY LIMITED!
Get Yours NOW!