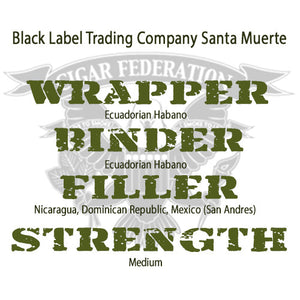 *STAFF FAVORITE!*
Black Label Santa Muerte 2023 is here!! This is the newest release from BLTC, maker of BLK WKS. And believe me, it's a badass smoke!
SANTA MUERTE was originally released all the way back in 2018…so to see it's return is a dream come true for many BLTC fans around the globe! 
Not only that—but the New BLTC SANTA MUERTE 2023 band and packaging has been completely re-designed and updated. The visual aesthetics of the cigar and the box is captivating!
BLTC creator James Brown described Santa Muerte like this: "This is a great addition to our core-line. It was last released in 2018 as a limited release, and we have had many requests for its return. We revamped the artwork giving it a white background with added silver details in a white box. It's a medium-bodied cigar with an Ecuadorian Habano wrapper. It features six filler tobaccos which create a very unique and rich flavor profile. You experience layer upon layer of coffee, malt, spice and cocoa."
But here's the most amazing part that I just have to point out (again)…BLTC features fillers from 6 DIFFERENT COUNTRIES! (Nicaragua, Dominican Republic, Mexican San Andres, and the rest are kept secret!😎)
All of this is overlaid by a pristine Ecuadorian Habano wrapper leaf. The combination leads to a very unique flavor profile with tons of complexity and deep rich flavors.
BLTC SANTA MUERTE 2023 comes in 3 sizes: Short Robusto – 4.75 x 52, Corona Gorda – 5.5 x 48, Petite Lancero – 6.5 x 42.
And we've got them all while supplies last!
Get Yours NOW!