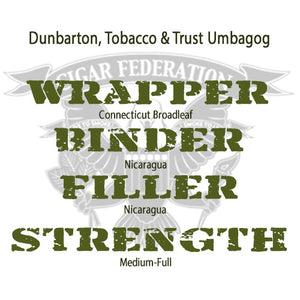 *EXTREMELY LIMITED QUANTITIES!*
The legendary UMBAGOG is finally BACK! We've had these on back order with Dunbarton since I can't remember when. But we finally got them in today!
UMBAGOG is seriously limited! The demand is so great for these cigars because they are so damn good!
Being as limited as they—IT'S A MIRACLE THAT WE GOT ROBUSTO PLUS, TORO TORO, CORONA GORDA, CHURCHILL, GORDO GORDOS, AND SHORT & FAT IN STOCK!
We think Steve Saka has outdone himself with Umbagog! (Our only gripe is that they are just too dang limited!!🤓)
Umbagog by Dunbarton Tobacco & Trust is the first budget minded release from the company. The prices on these cigars are insanely affordable! 
In fact, I don't think you can find a cigar of this caliber for this price!
The Umbagog uses the Connecticut Broadleaf wrappers which were deemed as not being visually appealing enough for the Mi Querida line. We can't tell a difference. All we know is that it's an amazing cigar for an amazing price!
Get Yours NOW!