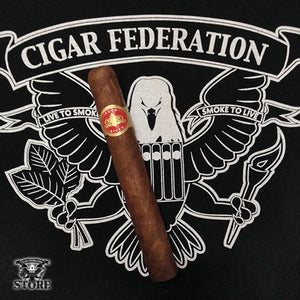 *ONE OF THE BEST RELEASES OF 2023!*
Last week, we got contacted by our friends at Crowned Heads asking us if we'd like to get a crack at the last boxes of the very highly acclaimed FOUR KICKS-MULE KICK LE 2023!
So, of course, we jumped at the chance to get a few boxes of this phenomenal Limited Edition!
You see, we remember way back in the day with the original Four Kicks was released. It took the cigar world by storm…and it was crazy delicious!
So when our old friend, Jon Huber, released the 2023 Mule Kick we couldn't wait to smoke it!
In fact, this is what he said about this years Mule Kick: "The cover leaf really drove the blend for this year's Mule Kick.When Ernesto (Perez-Carrillo) presented this dark, rich Ecuadorian Sumatra wrapper to us last year, I immediately earmarked it for Mule Kick 2023. When we went to validate the Mule Kick 2023 blend with that wrapper, Ernesto presented an alternative version of the blend that took the flavor profile to a different level. As it turned out, that blend incorporated a Dominican binder and some Dominican Piloto Cubano in the filler."
Production on this cigar is 3000 boxes. BUT…THEY ARE ONLY 10 COUNT BOXES!
NOTE: Like I said earlier…these are the last of the FOUR KICKS-MULE KICK L.E. 2023! If I were you, I'd get a box or two because these are gonna be extinct soon!
GET YOURS NOW!