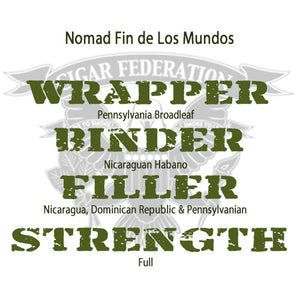 It's the End of the World as We Know it....
Hands down, one of our favorite maduro blends ever!
Nomad FIN DE LOS MUNDOS is the most limited cigar in the Nomad core lineup! Originally released to just a handful of retailers, they were long gone before you could even drive down there to buy them!
Nomad FIN DE LOS MUNDOS really is something special! First of all, it's made at the legendary Oveja Negra factory in Esteli, Nicaragua. (Ya know, the factory owned by the folks who own BLK WKS and Black Label Trading Co.) And second, the vintage tobaccos and richness of the flavors are the stuff of legend!
Nomad FIN DE LOS MUNDOS is full bodied and full strength! Wrapped in a Pennsylvania Broadleaf wrapper, the fillers are a complex blend of Nicaraguan, Dominican and Pennsylvania tobaccos. It makes for a balanced and complex full-throttle cigar! 
Big bold flavors of dark chocolate, black pepper, coffee beans, leather, toasted almonds, and cream. Additional notes of dark brown sugar, red oak wood, cocoa, earth, cloves, and sweet tea. 
It's so rich and so delicious!

NOTE: These have been aging in the warehouse for an additional 3 years since their release! Just like fine wine...they've gotten even better with age!
If you're a fan of full-bodied, complex MADURO cigars...you might just have a new fave in the Nomad FIN DE LOS MUNDOS!
Get Yours NOW!