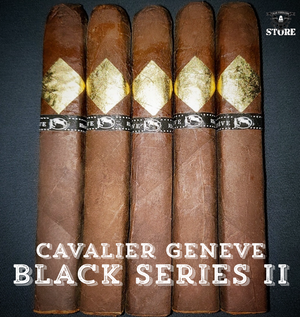 I've got one word for this cigar...WOW!
I'll never forget the first time I smoked a Cavalier Geneve Black Series II. I was thoroughly impressed...and I don't get impressed easily!
The flavors are rich and delicious! The box-press construction was impeccable. And that gold leaf band is so unique that it's easy to go from Zero to "full cigar-nerd" in about 4 seconds! 
Cavalier Geneve Black Series II features a silky San Andes maduro wrapper with all Nicaraguan fillers. 
Flavors are outstanding...dark (Swiss) chocolate, cedar, cream, vanilla, coffee bean, and caramel!
We've got like 2 boxes of these in stock! They're just really hard to get! Don't miss them!
Get Yours NOW!