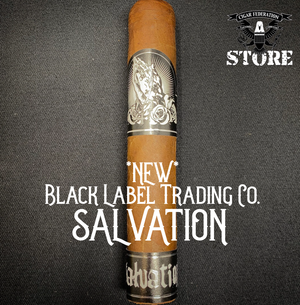 Hallelujah! The God of tobacco has definitely blessed this one!
The Black Label Trading Company SALVATION is an ultra-delicious smoke! I've got these piled up in my humidor and smoke them religiously!
Made at the Oveja Negra factory in Esteli, Nicaragua, it features am Ecuadorian Sun Grown wrapper, Honduran binder, and Nicaraguan fillers.
If you like some spice in your cigar...the Black Label Trading Company SALVATION is for you! But...it doesn't take away from the amazing flavors at all. Expect flavor notes of coffee, cedar, cream, sugar cane, and cocoa to go along with that spice.
NOTE: This is the new packaging and updated blend profile of the BTLC SALVATION. The vintage version can be purchased HERE.
So good! Get Yours NOW!